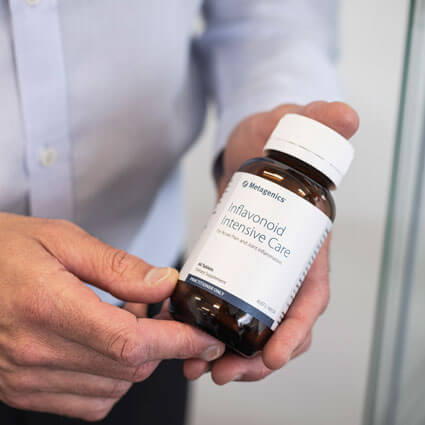 Metagenics Products in
Melbourne CBD
When you choose us for your care, we believe that it's important to help patients unlock their true health potential in every aspect, which is why we're proud to offer multiple Metagenics products for purchase in the convenience of our practice.
Metagenics products are natural supplements that are both high quality and may be effective for your specific needs. These products are always formulated to meet rigorous extraction standards and are made of only the highest quality ingredients, exceeding pharmaceutical and purity standards.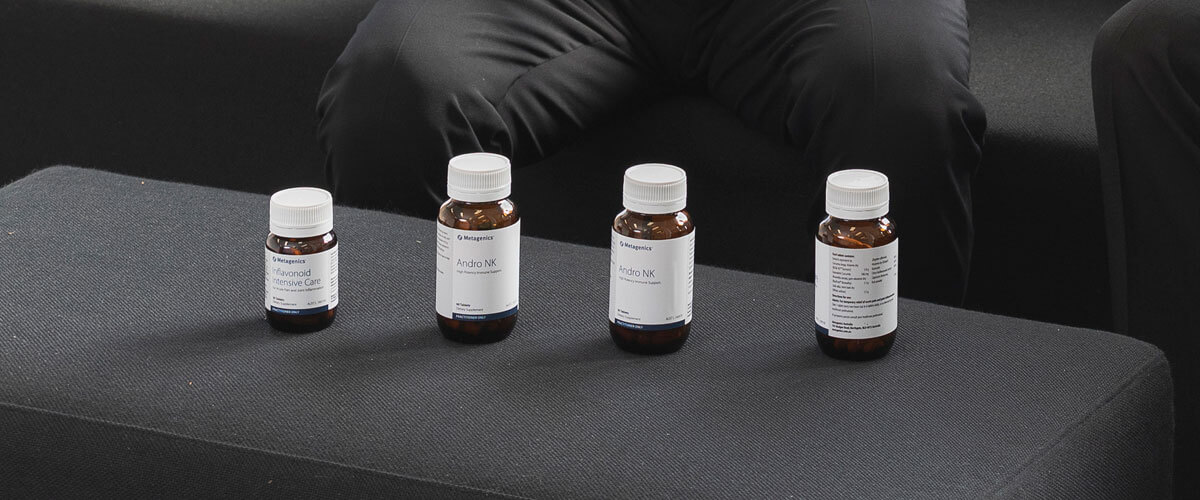 Products Offered
Currently, we carry seven incredible Metagenics products, including:
Natural Anti-inflammatory "Inflavonoid":  This product is designed to manage pain and mild inflammation, and may help relieve arthritis pain, assist with joint aches and decrease inflammation in the body.
Myoplex:  Myoplex is a magnesium supplement and entirely vegan in nature. With a recommended dose of 300mg per day, Myoplex may help assist with with your neuromuscular system, relieving muscle cramps or spasms.
Glucosamine Intensive Care Tablets:  Free of soy protein and nuts or seeds, this supplement may help promote healthy joint mobility and improved range of motion as well as protect from mild osteoarthritis.
Andro:  If you're looking for immune system support, look no further. These high-potency tablets are vegan and gluten free. They may help to reduce the duration of colds and help stimulate the body's natural immune system response. Ideal for patients who may find themselves easily coming down with a sickness.
NasoClear:  This 30mL nasal spray is designed to assist with relieving sinusitis and colds. A natural product, it combines a saline solution with essential oils for additional benefit.
Multivitamin:  Metagenics Family Multivitamin and Mineral tablets consist or antioxidants free of nuts or seeds as well as lactose and dairy. These tablets may assist in your overall health and are suitable for adults and children over the age of 15.
Fish Oil:  Metagenics fish oil capsules may benefit those with high cholesterol and promote a healthy maintenance ratio of LDL to HDL. These capsules are made of essential fatty acids you may lack in your regular diet.
Frequently Asked Questions
Why choose Metagenics products?
We believe that Metagenics products are high quality, and we only want to offer the best to our patients and their family. The Metagenics team continues to study and improve their formulas, introducing incredible products each year. Metagenics is the number one provider of natural supplements in all of New Zealand and Australia.
How long should I take a supplement before deciding if it works for me?
Because each person and body is unique, it's difficult to pinpoint an exact time frame for when you may experience positive results. We recommend you give your body a few months to adjust to the supplement before deciding if it may be helping you. If you experience any negative side effects, you may stop taking the supplement at any time.
Are supplements save for people of all ages?
We don't recommend supplements for children, and it's important to remember that everything carries the possibility of side effects. We recommend talking to us or a healthcare professional before introducing a new product into your diet.
Are there any synthetic additives in Metagenics products?
No. Metagenics prides itself on producing products that are all-natural, and they do not ever use any fillers or synthetic additives that might cause problems for users. Metagenics products are also stored in a temperature-controlled warehouse to prevent any product damage or lowered effect.
What are the capsules made of?
Metagenics capsules consist of non-reactive vegetable gums and cellulose, an ideal choice for product delivery.
How do I know which product may be right for me?
During a visit to
Back In Care Chiropractic
, we'll analyze your overall health as well as discuss what problems you have. From there, we can help you decide which (if any) product may be able to help you.
Learn More Today
Interested in trying Metagenics products for yourself? We'd love to help you learn more about how they may be of benefit to you. Contact us today to schedule an appointment or simply give us a call. We look forward to helping you achieve your best health.
CONTACT US »

Metagenics Melbourne CBD | (03) 9663 9313