About Back In Care Chiropractic
Melbourne CBD Chiropractor, Dr Ron Zukerman has been delivering quality chiropractic care to the city and since 1994. He looks forward to assisting you!
Providing Efficient and Timely Care to our Patients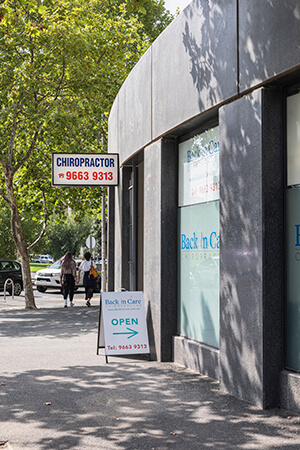 Our Spring Street clinic opened in 2000 and has provided natural healthcare solutions to patients living and working in the area. We understand that people have busy schedules. At our optimally located clinic, our patients can come and go with little or no waiting time. We often care for professionals during their workdays. Early morning and lunchtime appointments are available, so that you can fit chiropractic into your hectic day.
While walk-ins are welcome, pre-booked appointments allow us to provide outstanding service.
Taking a Proactive Approach
Our ultimate goal is to provide the highest standards of healthcare to our patients. We hope that we can bring about a change in existing healthcare practices—to wait for symptoms and then react. Our proactive approach is different. By taking care of your body, you may enjoy better results in the long run.
As a chiropractor in Melbourne CBD, I aim to spread the good news of chiropractic care. Our mission is to help as many people as we can through exceptional chiropractic care and quality service for everyone in the community."
Our Approach to Healthcare
At our practice, we follow a three-pronged approach to providing chiropractic care.
Since most clients meet us when they are suffering from pain, the first thing we do is to aim to provide relief for the symptoms.
Once this is done, we initiate the process of providing corrective care. Then, we work towards resolving the problem that originally caused the symptoms.
Finally, we provide ongoing care so that patients can adopt a healthier lifestyle to prevent future relapses.
In addition, we also offer a full line of products. These include sleeping pillows, ice packs, lumbar rolls, full contoured back supports and Metagenics supplements to best support your needs.
Contact Us Today
We will be happy to offer you more information. Call our office to make an appointment today!

About Back In Care Chiropractic | (03) 9663 9313